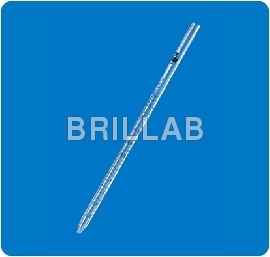 Product Description
A graduated pipette is a type of laboratory instrument used to accurately measure and dispense a specific volume of liquid. Graduated pipettes are commonly used in chemistry, biology, and medical research applications where precise measurements of liquids are critical.
The design of a graduated pipette includes a narrow, cylindrical tube with a bulb at one end and a tapered tip at the other. The tube is marked with graduation marks along its length, which indicate specific volumes of liquid. The volume of liquid that can be measured with a graduated pipette can range from microliters to milliliters, depending on the size of the pipette.
To use a graduated pipette, the pipette is first filled with the liquid to the desired volume by either suction or capillary action. The pipette is then inserted into the container holding the liquid to be dispensed, and the liquid is carefully drawn into the pipette to the desired volume. The pipette is then removed from the container and the liquid is dispensed into the desired location by gently pressing the bulb.
Other Products in 'LABORATORY GLASSWARE' category
Get in touch with us