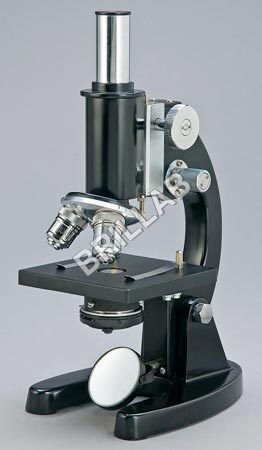 Product Description
Student Microscope
This is a perfect microscope for students to learn science. It comes with full optical glass elements, metal framework, 360 degree rotatable monocular head, coarse & fine focusing, and LED illumination. It offers five magnification settings, 40X, 100X, 250X, 400X and 1000X. It is an ideal microscope for home school or for students from elementary to high school. It is also an excellent instrument for hobbyists.
Along with some prepared biological-specimen slides, this kit also includes a slide-preparation kit, with blank slides, red and blue stains, and several tools to put together your own specimen slides.
Features :
· A Great Affordable High Power Student Microscope with Coarse & Fine Focusing
· 45 Degree Inclined 360 Degree Swiveling Monocular Head with Locked-in Eyepiece
· Built-In Contemporary LED Illumination
· Plain Stage with Clips and Stain Resistant Finish
· Fully Coated Optical System
· High Resolution Offering Sharp Images
· Five Levels of Magnification: 40X, 100X, 250X, 400X and 1000X
· Single Lens Condenser and Disc Diaphragm
· Focusing Control Knobs on Both Sides
· Full Optical Glass Elements
· Precise Ground Glass Lens
· All Metal Mechanical Components
· Solid Metal Frame with Stain Resistant Enamel Finish
· Manufactured under ISO 9001 Quality Control Standard
· Excellent Five (5) Year Factory Warranty
· Unbeatable low price Guaranteed or the Difference Back!
· Satisfaction Guaranteed or Your Money Back!
· Includes Slide Preparation Kit
Specifications :
· Head: 45 degree inclined monocular
· Eyepiece: WF10X & 25X
· Objectives: 4X, 10X, 40X
· Condenser: single lens with disc diaphragm
· Stage Dimensions: 3-1/2" x 3-1/2"
· Illumination: LED
· Power Supply: 110V/60Hz
Packing List :
· One Monocular Microscope with Three Objectives
· One WF10X Eyepiece
· One 25X Eyepiece
· One Dust Cover
· Two Clips
· User's Manual
· One 5pc specimen slide kit
· One 5pc blank slide kit
· 1 Bottle of Eosin
· 1 Bottle of Methylene Blue
· 1 Tweezers
· 1 Swab
· 1 Set of ID Stickers
· 1 Petri Dish
· 1 Pick
· 1 Stirring Rod
· 1 Vial
· 1 Set of Lens Tissues
· Shipping Weight: 9 lbs
Other Products in 'MICROSCOPE' category
Get in touch with us