Lab Aspirator For Seed Testing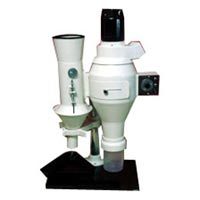 Lab Aspirator For Seed Testing
Lab Aspirator For Seed Testing
The aspirator separates foreign material from granular product by means of spreading flow oer intake cone. The thin stream of material is introduced to a controlled current of air of that passes through the material as it falls.
The air flow is controlled with a sensitie ale which restricts or increases air passage to the centrifugal collector.
The sample is poured in receiing hopper. The flow dial is set for desired rate of flow; air slide adjusted and locked; and fan turned on .Flow may be started or stopped instantly. Foreign matter remoed from sample is collected within the remoable, transparent plastic cup.


FEATURES:-
For separation of light chaffy material from granular product.

Robust design, fast and accurate.

Feeding rate and air flow is adjustable.

Separate detachable transparent collector.

Supplied with solid state regulator for ariable blower speed, Triangular Pan and Transparent cup.
SPECIFICATIONS:-
Size : 51x30x82.5cms (approx)

Hopper Capacity : 2.2Kg. approx. for Wheat/Rice

Motor : Mains operated 70W (approx) 220, 50 c/s.
Get in touch with us